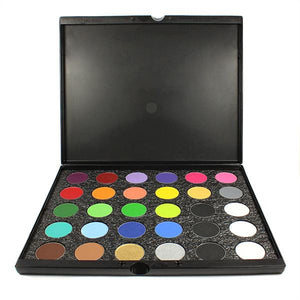 Mehron Makeup AQ 30 Color Palette
Paradise Makeup Aqua is Mehrons world renowned, premium quality, water-based face and body painting makeup. Formulated to be semi-soft, water activated, and moist while delivering richly pigmented, beautiful and bold colors that transforms artistic inspiration to life from head-to-toe. Paradise Makeup Aqua is available in a 1.4 oz. jar, .25 oz. jar, an 8 color palette and a deluxe 30 color palette. We also offer a 12 slot jar holder artist ProPalette to keep everything well organized (holds the 1.4 oz. size). Paradise Makeup Aqua is available in a kaleidoscope of colors and finishes, it is the preferred choice of award-winning artists around the globe.

30 individual .25 oz (7 g) pans inside a 12.5x10x1.25 inch convenient travel case.